A & S - Glenfield
Glenfield, Auckland
"WOW! We couldn't have imagined a more beautiful and stylish bathroom…we definitely made the right choice after having had a number of quotes done"
/project/a-s-glenfield
A bigger bathroom in Forrest HIll
Blakeborough Drive, Forrest Hill
Our clients needed more room in their small bathroom and with some careful planning we were able to give them a space to be jealous of.
/project/more-space-created-at-forrest-hill-address
Beautiful Family Spaces in Narrow Neck
Narrow Neck, Auckland
Stylish, Robust and Timeless
/project/beautiful-family-spaces-in-narrow-neck
Beautiful in Belmont
Belmont, Auckland
bathroom and laundry renovation in Belmont
/project/beautiful-in-belmont
Beautiful space in Beautiful Orewa
Orewa
Simple and stunning
/project/beautiful-space-in-beautiful-orewa
Bold and daring
Torbay, Auckland
"Create us a bathroom that makes us feel like we are in a top hotel!"
/project/bold-and-daring
Bright and Bold in The Spencer
Byron street, Takapuna
Our clients wishes were simple - my bath needs to go!
/project/spencer-on-byron
Cheltenham Beach
Devonport, Auckland
A stunning, bold statement. Modern, sleek and stylish, this space is truly a haven.
/project/cheltenham-beach
Complete Renovation On Cheltenham Beach
Cheltenham Beach, Auckland
In the most Stunning of locations, we have helped create a space that is truly special
/project/stunniing-complete-renovation-of-cheltenham-beach
Creative, stylish and simple In Birkenhead
Birkenhead, Auckland
Using 3D design technology, we were able to show the client how her bathroom would look before even starting.
/project/creative-stylish-and-simple
Devonport Style
Devonport, Auckland
Modern, simple and stylish....
/project/devonport-style
Duders Avenue, Timeless Devonport Style
Devonport, Auckland
Beautifullly calm space, traditional wooden floor, combined with beautiful modern vanity and tall cupboard.

Frameless glass enclosure and soft paint tones, created a stunning modern bathroom.

Devonport style and charm, yet totally modern.
/project/duders-avenue-timeless-style
Less is more in Hillcrest
Bank street, Hillcrest
When a man knows what he wants he knows what he wants!
/project/when-less-is-more-in-hillcrest
M & M Unsworth Heights
Unsworth Heights, Auckland
From the start of this bathroom renovation, it became apparent that this client had a flair for style!
/project/m-m-unsworth-heights
Mairangi Bay makeover
Newhaven Terrace, Mairangi Bay, Auckland
A more practical design needed in Mairangi Bay
/project/mairangi-bay-makeover
More space required, Helvetia Drive Browns Bay
Helvetia Drive, Browns Bay
When life requires assistance its important to feel confident in your own spaces.
/project/more-space-required-helvetia-drive-browns-bay
New in Hauraki
Lake Road, Hauraki
With a bathroom this large anything was going to be possible and the end result was stunning!
/project/total-upgrade-in-hauraki
Ponsonby Style
Ponsonby, Auckland
Timeless, classy and modern.
/project/ponsonby-style
R & M Takapuna
Takapuna, Auckland
Small spaces with plenty of room!
/project/r-m-takapuna
Seamless in Torbay
Stredwick Drive, Torbay
Our clients wanted to make this space their own and they did an amazing job.
/project/seamless-in-torbay
Simple Functional and Fun
Chatswood, Auckland
A family bathroom that didn't break the bank
/project/simple-functional-and-fun
Stylish in Black!
Saddleback Rise, Murrays Bay
Our clients wanted a stylish modern upgrade but it had to be practical for their young family. The end product was exactly what they wanted.
/project/stylish-in-black
Stylish Modern classy in Castor Bay
Castor Bay Rd, Castor Bay
From Darkness Came Light
/project/stylish-modern-classy-in-castor-bay
Subway Tiles
Devonport, Auckland
/project/subway-tiles
Three Bathrooms and a toilet in Forrest Hill
Ravenwood Drive, Forrest Hill
When its time to give your bathrooms a make over its a chance to add some special touches. Our design brief here was make it beautiful and practical. This project came in on time and on budget and the end result was three amazing bathrooms.
/project/three-bathrooms-and-a-toilet-in-forrest-hill
Tony - Chatswood
Chatswood, Auckland
The whole bathroom renovation has been well coordinated and delivered to superb quality
/project/tony-chatswood
Truly recycled!
Narrow Neck, Auckland
/project/truly-recycled
Wet area bathroom in Birkenhead
Verran Avenue, Birkenhead
Our brief for this bathroom was to get rid of the bath and make it a wet area.
/project/level-entry-wet-area-in-birkenhead
Bathroom Renovation Projects from Our Auckland and North Shore Clients
Undergoing a home renovation? At Bathrooms & Kitchens NorthShore, we provide all of our clients with a professional and complete project management service from start to finish. Our client focused approach means that your bathroom renovations go smoothly and allows us to better meet if not exceed your expectations. By communicating throughout the entire process and working together with you, we ensure that the bathroom renovation cost and deadline requirements are both met. During our first meeting with you, we will discuss your project requirements and provide our professional advice about how we can best approach the project.
Our Bathroom Renovation process is as follows:
Get in touch with us about your project requirements either through our website or call us.
Within 24 hours, one of our team members will contact you to confirm your bathroom renovation requirements.
Once we have a better understanding of your requirements, we can visit your site to discuss potential bathroom remodel ideas.
Following our assessment, we will be able to provide you with a draft quote for the bathroom renovation cost.
We will make any necessary changes to the draft quote before sending you a final quote.
Once the quote has been accepted, we can commence work on the project.
Once we begin work on the bathroom renovations, we aim to have the renovation project complete within three weeks.
View Our Latest Bathroom Renovation Projects
We have worked on a number of different bathroom remodel and bathroom renovations Auckland wide. Check out our latest projects to get a better understanding of what our team can offer you. This is also a great place to gain some ideas for what you could implement into your own renovation project. We also have a Bathroom Renovations North Shore team who can help clients in areas such as Torbay or Orewa. Check out the projects below! And for a free onsite consultation, get in touch with us through our contact form or free call us at 0800 77 00 33.
Contact us for a free quote
With a bathroom this large anything was going to be possible and the end result was stunning!
Our client wanted a new modern look that wouldn't age. The new design allowed for maximum space with great features including a Free Standing Bath, Frameless 1000/1000mm Diamond Shower and a large Hall Hung Vanity. Put all of this altogether with modern tapware and the results speak for themself.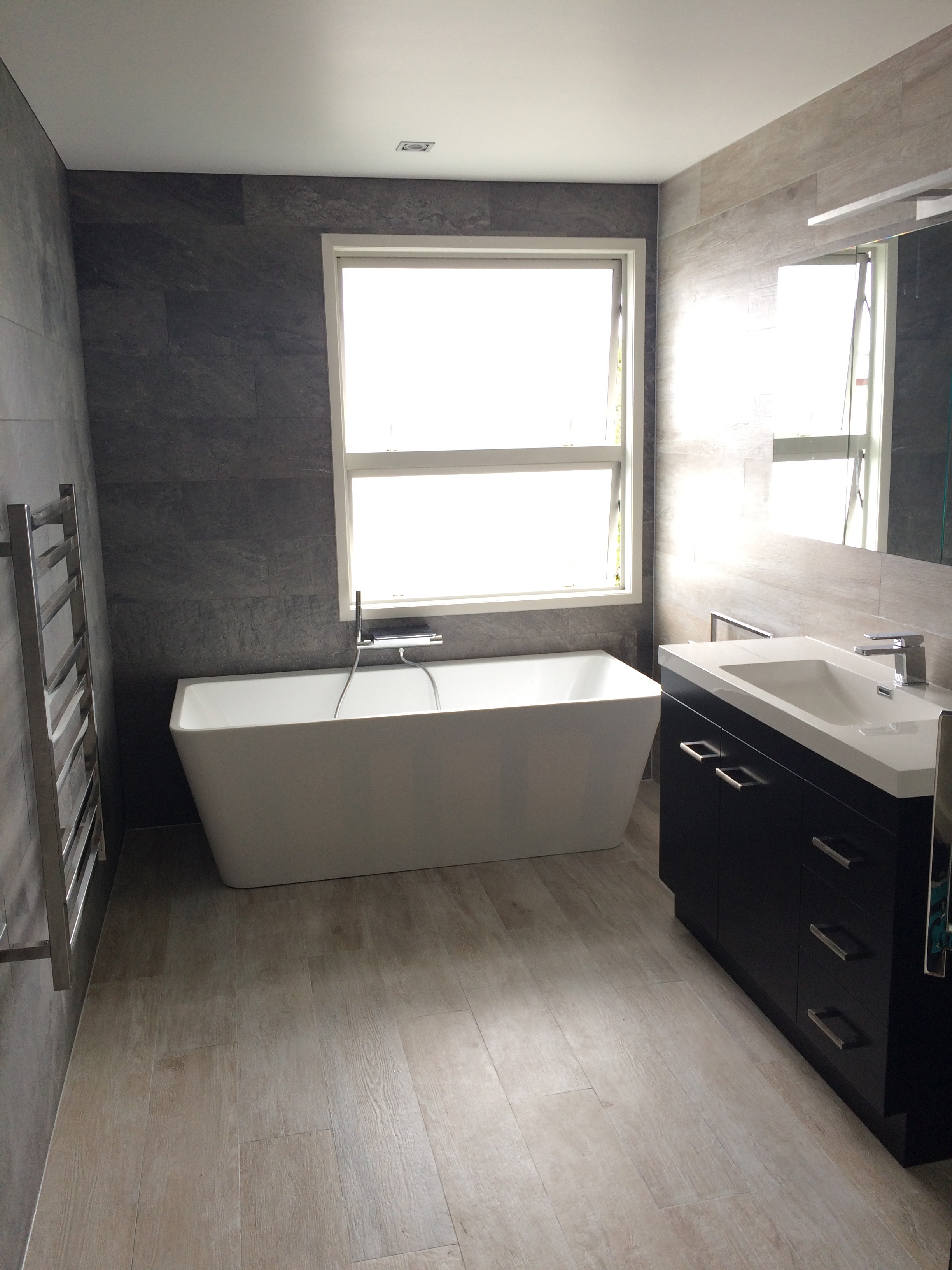 A more practical design needed in Mairangi Bay
This bathroom was huge but a very large corner spa was taking up all the space and the design was all wrong. The vanity was under the window which meant there was no mirror. With some simple changes in location the space has opened up and creates a nice flow with the new double glazed window and bath being the central features of the room. Then there's the double basin vanity, mirror cabinet & light, heated towel ladder, underfloor heating in both the bathroom and separate toilet and finally a beautiful tiled shower.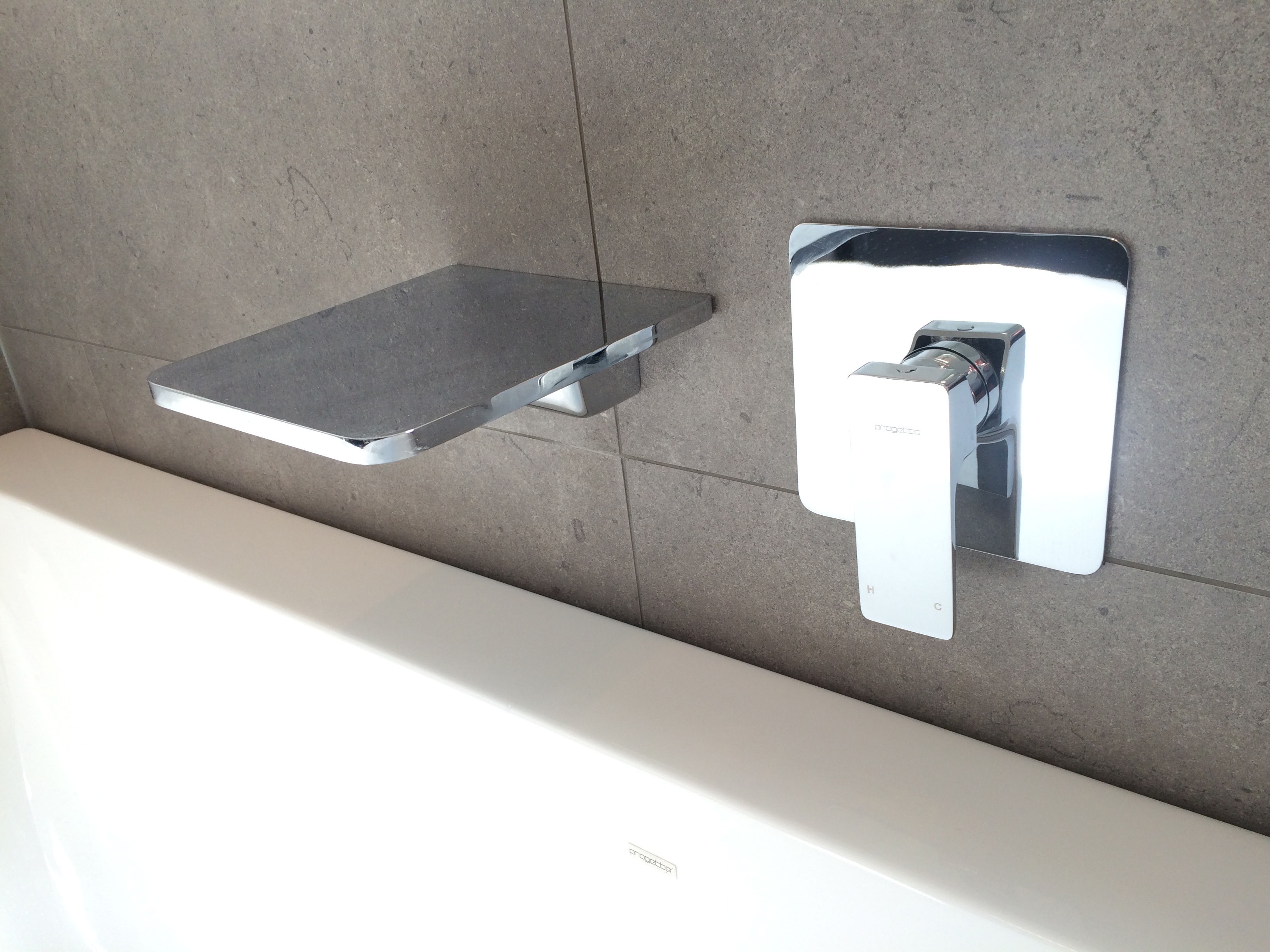 Our clients needed more room in their small bathroom and with some careful planning we were able to give them a space to be jealous of.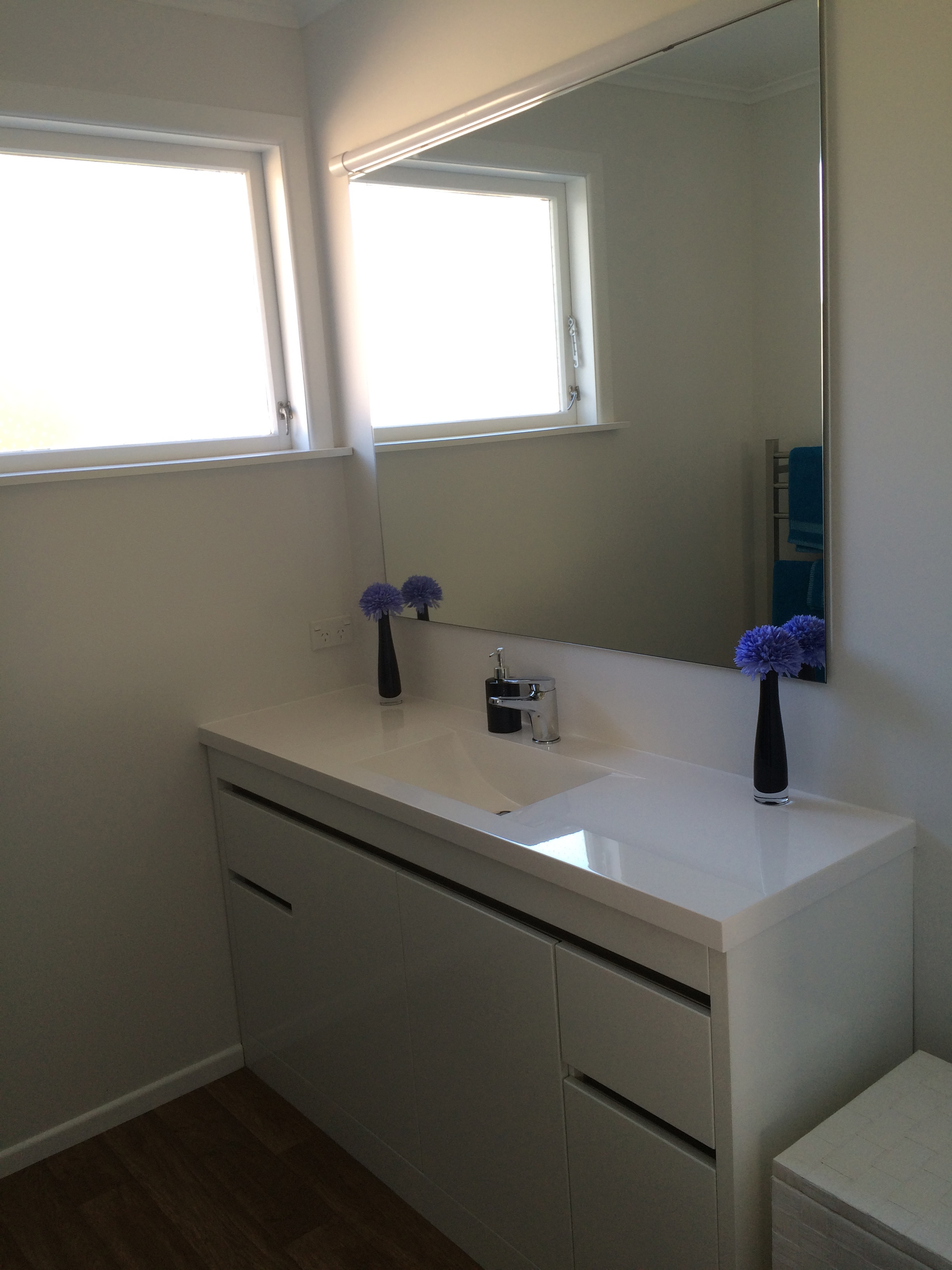 Contact us for more details